Rajasthan, the land of Maharajas, is famous for its rich culture. But what makes the state distinctive and popular is its cuisine. Rajasthani cuisine is rich, colourful and unique just like its culture. The arid nature of region, the extreme climatic conditions, scarcity of water and vegetation has witnessed evolvement of unique cooking styles and food habits of natives that is noticeably different from other Indian cuisines. Rajasthanis have moulded their culinary styles in such a way that many of their dishes can be shelved for several days and served without heating. Milk, lots of clarified butter and local spices are the prerequisites of many local dishes. Beans, dried lentils and legumes like gram flour, bajra and jowar form the main ingredients of many of the Rajasthani dishes. From a range of vegetarian and non-vegetarian options, to sweet and savoury delicacies, discover the quintessential Rajasthani dishes you need to try.
Dal Baati Churma
One of the most famous and signature dishes from the state that have earned popularity across the globe. No Rajasthani food is complete without Dal Baati Churma. This delicious platter comprise of a combination of three different items namely a Spicy Dal, a deep-fried Baati and a mouth-watering and slightly sweetish churma. The round Baatis made with whole wheat flour that is roasted over firewood, that are crispy on the outside and soft on inside. It hardly requires water for its preparation, dipped in ghee and prized for its long shelf life. Panchkuti dal item is prepared of five different dals namely chana dal, toovar dal, urad dal and whole moong. Churma, which is coarsely ground wheat mixture crushed and cooked in ghee and jiggery or sugar. The combination of three, make for a hearty and appetizing combination.
Laal Maas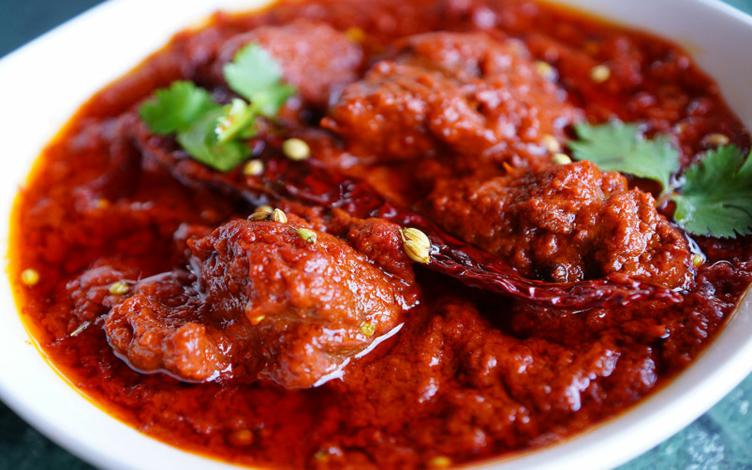 In this predominantly vegetarian state, Laal Maas is touted as one of the best, popular and mouth-watering meat preparations of Rajasthan. It is essentially a meat curry made with a yogurt-based sauce and an array of hot spices, like red Mathania chillies. The red chillies give it the rich colour and fiery taste, though the spice level can be changed. This can be eaten with either aromatic rice or Bajra ki Roti. Today, it consists of marinated spicy mutton curry cooked on a low heat in a fiery sauce of red chillies, garlic paste, sliced onions and curds.
Ker Sangri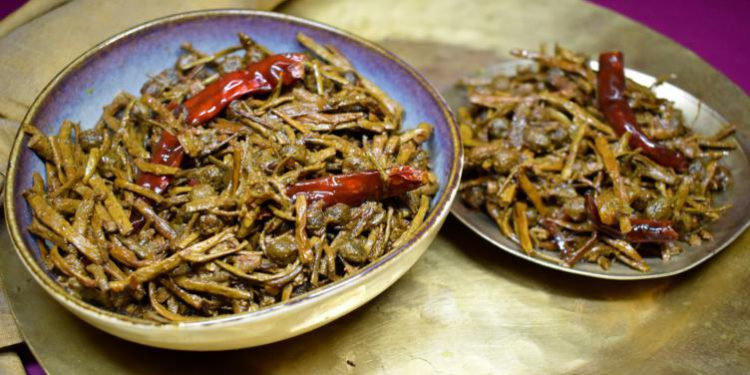 A typical desert vegetable, Ker Sangri is a kind of pickle. Ker, ia a wild berry that is tangy and peppery while Sangri is a type of long bean. Sangri is a mainstay during drought, when little else is available as it is 53% protein. Legend has it that long ago there was a famine in Rajasthan and the villagers found these two vegetables when all other vegetation had withered away. The villagers took these vegetables home and due to the scarcity of water, cooked them in vegetable oil with spices. This tangy dish goes well with Bajra roti.
Mohan Maas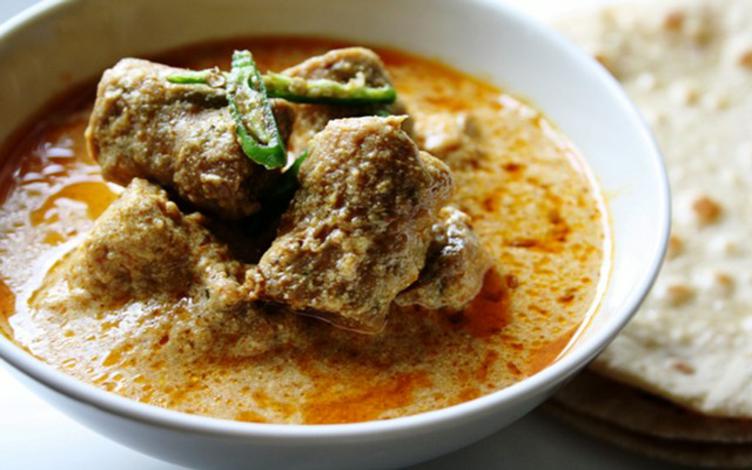 A meal perfect for the Maharajas, this is a treat for every non-vegetarian. It is counted among the yummiest and most delectable Rajasthani non-vegetarian dishes that will surely make any non-vegetarian crave for more. The meat is cooked with mild spices and milk comes with rick gravy seasoned, which makes it tender and juicy. The thick gravy infused with the flavours of khus-khus, lemon and cardamom brings out the lovely flavour of the dish and make it even more luscious.
Mirchi Bada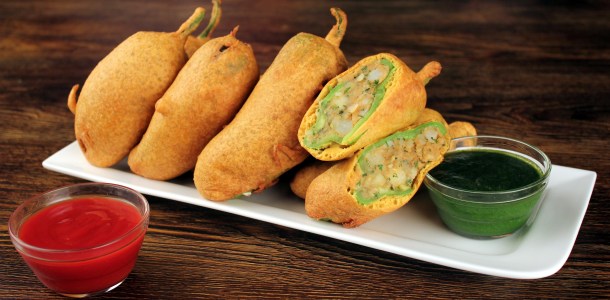 The Mirchi Bada of Rajasthan, is available all over India, but no one does it better than Jodhpur, as the water in that region lends it a unique taste. It is crispy and crunchy. This spicy Indian snack, made of batter of chana dal, onion, dhania seeds, consisting of chilli and potato or Cauliflower stuffing. Banana pepper is used for making mirchi bada. It is served with tomato sauce or occasionally with mint and tamarind chutney forms a perfect tea-time snack because of the combination of spicy and sweet flavors.
Rajasthan offers a magnificent range of unique dishes that will definitely want you to have more of it.